Diabetic Retinopathy can be treated with acupuncture
Previously it was believed that it was only possible to stop the visual impairment in those people, where diabetes had impaired their vision. An Italian ophthalmologist has now documented, that Boel Acupuncture's treatment of Diabetic Retinopathy now only stops the regression, but is in fact able to improve the vision significantly.
The treatment is so fast, that it should work already after two weeks.
Below you can watch a short video clip, where Anne Grethe tells how she, due to Diabetic Retinopathy, had gotten such heavy bleeding on the retina that despite surgery and laser treatments, she could no longer drive or read. After to weeks of treatment at Boel Acupuncture, she could both read and even drive the car herself.
Be aware that the results may vary from person to person. We can't guarantee, that everyone achieves the same results as Anne Grethe. You are welcome to contact us and tell us about your situation. Then we can assess, which options you have.
What is Diabetic Retinopathy?
The blood vessels in the body become heavily loaded, when the blood sugar is high. Especially in the veins behind the retina in the eye get poor blood flow and come "tender", which makes it easy to puncture them, leading to a bleeding on the retina. The body tries to solve the bad blood supply by forming new blood vessels, but they do more harm than good, since they often are fragile and leak blood into the eye.
The doctors solve this problem by burning the new blood vessels with a laser. Unfortunately, this does not help with the bad blood circulation, so the vision is not improved by the laser treatment.
Ophthalmologist documents Boel Acupuncture's treatment of Diabetic Reinopathy
The ophthalmologist Valeria Vanucci from Bologna in Italy has thoroughly examined a patient before and after our treatment. The purpose was to find out, what happens when a patient with Diabetic Retinopathy gets treated by our acupuncture method. The examinations used a so-called Angiography (an X-ray examination of the blood vessels behind the retina of the eye using contrast fluid). It turned out that the blood flow in the small blood vessels in the eyes improved significantly.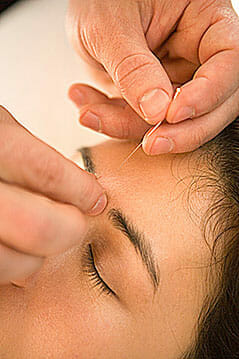 Previously, we could only measure the vision improvements on a vision board or perimeter (machine, that tests the field of vision) and patients could se the improvements in their daily lives.
A normal course of treatment for Diabetic Retinopathy lasts 2 weeks, during which you are treated intensively – 2 rounds of 5 days with 2 treatments per day. That is 20 treatments in 10 days. A treatment takes 30 minutes, then you get a one-hour break and finally another treatment of 30 minutes.
The price for the 20 treatments is 1200 EUR in total.